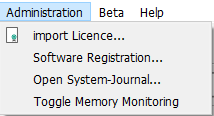 Import license: If the online registration does not work, you can send a license request to the ImageWare support via email and you will receive a license file.  With "Import license…". you can navigate to the directory on the computer where the license file was saved.  Select the file via the Open dialog of your Windows system. The license will be validated and imported automatically. To connect, please restart the application.
Software Registration: The dialog for registering and licensing the software will open.
Show System Journal… The dialog for setting and querying the system journals is opened.  The system journal is used for error analysis, which data can be recorded can be set by the administrator or the ImageWare support. No personal data are logged and stored in the System Journal.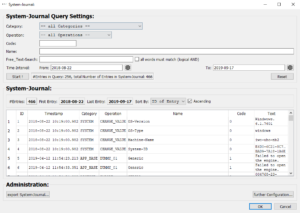 Toggle main memory monitoring: If the function is active, the current memory usage of the application is displayed in the status bar at the bottom of the window. Two numbers are displayed:
current size of the workingset in MB
current maximum size of the workingset in MB
The corresponding specification differs from the specification in the Windows Task Manager: It is always larger! This is because the display in BCS-2 considers the memory usage of all components, whereas the Task Manager only tries to show the memory usage that can be assigned to the actual program.
With this new feature, it is possible to check if memory leaks are suspected, and if so, which operations increase the memory usage and possibly do not decrease it again.